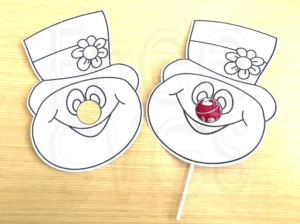 Here's a fun activity for the little ones especially if they are fans of Frosty The Snowman whether it be the book or the movie.
This is a print and cut file designed for a Cricut or Cameo.  No worries though if you don't have one you can still download the file to print out and have the kids cut them out. 🙂
It's all black and white so the kids can color in Frosty and tape a red lollipop to the back for his bright red nose.   I used red Tootsie Pops  for mine.
Download here>>> Download

Instructions for Cricut users:
Download the file above.
Upload to Design Space.  You'll see when you do this that Frosty is on his side leave him that way.
Save as a print and cut and then insert your image in Design Space.
Select Frosty and with the ratio locked set the image to 6″ wide.
Click make it
Before printing choose 2 and then click apply.  This will give you two images per page.
Tip – You can print more than one at a time… print as many as you like and then you are prompted to load to cut, unload one (don't click finish!) and then reload another click your blinking C.
Have fun and come on back and comment with a picture of the Frosty your kids made.
*The SVG files on this site are totally free to use. All that is asked if someone asks you for the file you give them the link to your fellow crafters so they can come visit us.