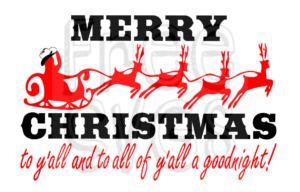 I love the song, When It's Christmas Time in Texas by George Strait so that's what inspired this file.
I can't help but think that when Santa flies south of the Mason-Dixon line he develops a thick southern accent and would rather have a nice tall glass of sweet tea and slice of pie rather than another glass of milk and some stale cookies.
So in my mind, Santa would call out, "Merry Christmas to y'all and to all of y'all a goodnight!"
You can download this file here>>>Download
If you make something come on back by and post a pic in the comments we'd love to see it.
*The SVG files on this site are totally free to use. All that is asked if someone asks you for the file you give them the link to your fellow crafters so they can come visit us.