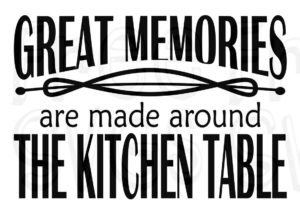 Great Memories are made around The Kitchen Table SVG File
Oh how true!  My husband was talking not long ago about getting a new kitchen table.  I just don't think I can part with the one I have though.  We've had it since our second child and added another 3 after that.  My table is now over 22 years old.
That table has seen so many dinners, where we asked our kids to share "their good part" of their day… no bad parts because we wanted them to focus on the positive.
And then they're the birthday parties, the games, the homework, the serious discussions!
You can download this free SVG file here>>> Download
Please share, pin, like me on Facebook and all that good stuffs!